Sale
SMOKY CHIPOTLE SEASONING 100 G (3.5 oz)
Great to mix with your favourite condiments, tomato sauce, salsa or sour cream. Makes a fantastic dip for your veggies, baked potatoes, fries and meats.
Tip: mix 2 parts mayo, 1 part ketchup with 2 teaspoons of Smoky Chipotle Seasoning and spread in your tacos, fajitas or homemade burgers!
Taste the yum!
Ingredients: Chipotle pepper, Smoked paprika, Garlic, Tomato.
Customer Reviews
WOW, WOW, WOW!!!
My avocado toast and eggs in the morning will never be the same. Just got my package yesterday, sprinkled some of the smoky chipotle on top, and WOW! Flavours are popping! Also, got the Montreal Steak, the Shawarma, the Smoked Paprika, Butter Chicken and Sun dried Tomato ones to try. Can't wait to cook more and enjoy the flavours.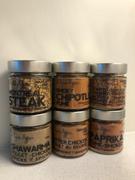 06/10/2020
A Spice Affair.
Hi Maxim! Thank you so much for your review and for including a picture, you're the best! It's really important to us to have your feedback and it makes our day to know that you are enjoying your seasonings. Happy cooking ♡
A must have!
Tried the dip with mayo, ketchup and the Smoky Chipotle Seasoning to eat with BBQd chicken legs and it was to die for. Highly recommend!
Chipotle - can't go wrong!
My husband used this rub on ribs along with the Ultimate Meat Rub and Mexican Chili spice mixes - absolutely amazing!! We can't wait to try it other recipes!