Sale
TREASURES OF THE SEA 3-PACK SPICE SET
The sea holds tremendous treasures and so do our spice blends! Our carefully crafted fish & seafood seasonings will pair perfectly with your favourite dishes and tartares. All aboard!
Vegan

Vegetarian

Keto

Paleo Friendly

Non-GMO

Natural

Filler-Free

Gluten-Free

Nut & Peanut Free
Contains 1 jar of the following: 
Salmon Seasoning - 100g


Ingredients: garlic, coriander, sea salt (9%), mustard, black pepper, turmeric, natural flavours, cilantro, shallot, parsley, thyme.




Contains: mustard.



Fish & Tartare Seasoning - 50g


Ingredients: garlic, parsley, red bell pepper, black pepper, sea salt (5%), coriander, natural flavours, chives, scallion, orange peel, dill weed, tarragon, fennel.



Parsallot - 30g


Ingredients: garlic, shallot, parsley.
Customer Reviews
01/17/2021
Hiromi I.

Canada
Best Trio of Spices!!!
This is the PERFECT start to trying out these spices, whether for yourself or as a gift. I had wanted to try but could never decide so when I saw this set, I thought great! You will not go wrong with these, the Salmon spice is amazing even on pasta - it tastes like restaurant quality. Annnd I ordered 2 more of the Parsallot if that's an indication of anything. Amazing on eggs! The Fish & Tartare I've mixed in with long grain rice and it's delicious. Will be re-ordering all of these for sure.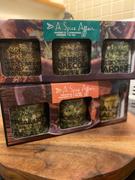 Just got yesterday so I
Just got yesterday so I haven't tried it on actual fish yet, but I couldn't wait so tasted them straight from the jar. Wonderful tasting combinations I can't wait to try!! Was also delighted by the amount of product for the cost. I already know I will be a returning customer